Update of sorts
I ought to blog more. But this is hardly news. This blog is of course mainly focused on my craft exploits with a definite bias toward knitting whereas my more personal bloggings can be found on my main blog. Not that that sees a lot of updates either. I've been considering looking into TypePad if only for the niftiness of the design and the fact that having to update the template at Blogger is a bit of a PITA.

On the needles right now are:
An improvised half pi shawl in a tweedy-like green angora. Just eyelets and slipped stitches and so far it is looking okay.
My Hamilton Tuttle blouse
The Drops T-shirt (who hasn't gotten any action in months now – shame on me)
One Broadripple soak in a cheap green sock yarn that I have to frog back to the heel. It's turning out much too short.

I have all kinds of clever ideas regarding a project notebook, utilizing an old Moleskin Calender/Planner and ways to make this site a repository as well. I just have to get cranking.
posted by rebekka at 17.3.05
Photoless update
I finally finished the bag for one of my friends. The one where I tried intarsia and failed miserably, only to end up doing a solid color felted bag and accent it with a small, needle-felted skull.

Needle-felting rocks.

I added leather string handles and forgot to take a photo. Oh well.

I am still working on the Hamilton sweater. I had made very good progress on the front piece when I realized that two of the small cables twisted the wrong way inone or two places. So I frogged it. I am quite proud of myself, actually. I used to be a perfectionist, but prone to give up (or throw a hissy fit) when the world would not cooperate. My knitting is forcing me to be more focused on the process which is doing me a world of good.

I am also looking into to other new and exciting projects. I'd like to be able to make some more bags. One can never have too many bags after all.
posted by rebekka at 22.2.05
One skein hat
It isn't done yet but I could do with one and when I happened upon a single skein of Noro in a colorway I liked, and for cheap even, it was an easy enough choice.

I must be strange though. My fingers hurt more when I knit with the larger DPNs than when I knit socks with size 2s (European size that is). Then again, I do have small hands. Fairly small anyway.

I started a pair of Broadripple socks but decided that the yarn was a little too heavy for the pourpose. However, it might work for armwarmers, so I am making a pair of those instead, using what should have been a sock cuff as the bit that goes over the hand. Will go over the hand. Hopefully.

My sweater is languishing and I feel bad about it. I'll look into cabling withjout a needle I thin, seeings as how I won't get any cable knitting doen on the bus otherwise. My schedule is changred from tomorrow and I'll get a bit more traveling time. I may very well end up with doing socks instead though. I have some solid colors as well, since the Broadripple patterns is busy enough as it is, without multiple colors. At least when those colors are supposed to stripe.

In other craft-related news, I'm thinking about knitting a couple of nets for vegetables. We get a sending of organic vegetables every other week and we don't really have the proper storage space so I was planning on making nets and using some of the free wall space.

I have a patterns. It's a nice pattern. It will also take me forever. I should probably go for something simple and quick. Another bus project maybe.

posted by rebekka at 11.1.05
Plans
Once again I shall attempt to make a pair of Broadripple socks. Last attempt was foiled by me overlooking the fact that the pattern I was working from was meant for Cascade Fixation *sheeps*

This time I have made sure to get my paws on the pattern for ordinary sock yarn. So much better. I seem to remember that the pattern was fairly easy once you got the hang of it.


And this weekend there shall be done work on The Sweater!

I think.



posted by rebekka at 5.1.05
More socks
These are my newest pair of socks. I went up one needle-size and the resulting fabric is definitely softer. I'm quite curious as to how they'll hold up to the ones I normally make.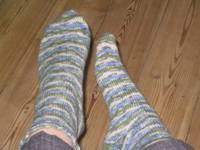 I'm still working on my sweater as well. Socks are just so easy. And handy when you sit in front of the computer.

posted by rebekka at 1.1.05